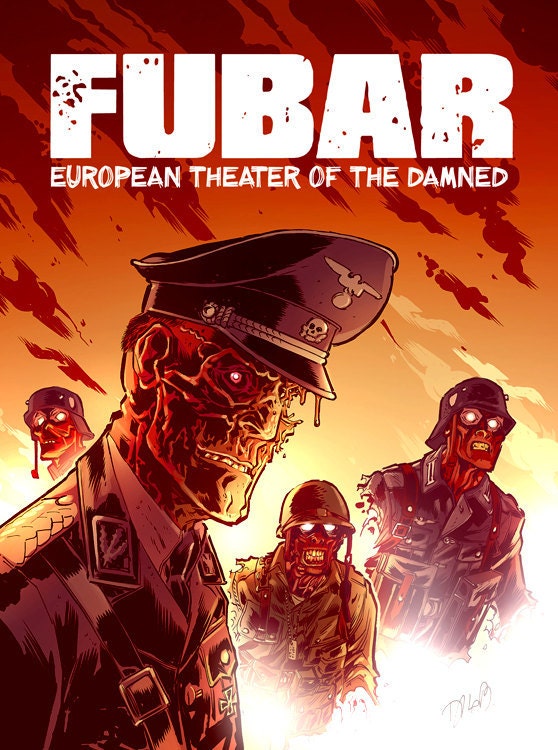 Warning: This commentary is not for the faint of heart.
I thought I'd start this particular Monday morning, May the 14th, with a little rant. Sometimes it helps to ditch the uber-rational, cool-headed analysis and remind people just how screwed up things are on this third toxic landfill from the Sun.
F.U.B.A.R. is a military acronym from WWII – it stands for, "FUCKED UP BEYOND ALL RECOGNITION/ANY REPAIR/ALL REASON".
I can already hear the critics and naysayers chirping – "But, but, we've heard all of this before. You all have been talking about financial meltdown for years now, and it never happens. We just keep on chugging along like the little engine that could".
Bullshit! It has happened; it is happening. Every day for the past year has been one in which the Eurozone could erupt in flames, figuratively AND literally, and financial contagion could sweep through the global banking system. That is the definition of systemic meltdown – the critical point past which a system is constantly exposed to the risk of CRISIS.
We all know the story in Europe. The peripheral EZ economies are in freefall as private/public credit evaporates and unemployment soars, while the backlash against blatant wealth extraction, a.k.a. "austerity", has reached epic proportions. Greece is closer than ever to saying "SHOVE IT" and leaving the Union. So what happens after that??
Europe will be F.U.B.A.R., that's what. Capital exodus, financial contagion, hyperinflation, social unrest, civil war – you name it – it's all on the table. What if Greece manages to stay in and none of this happens? Does that mean everything is all better and the crisis point has been averted? Go ahead – sit back, relax and give it a few more weeks or months, but just remember that you will NEVER know when it will hit you like a MACK truck – only that it most certainly will.
And while you're waiting for Europe to implode, maybe you can do some research on China. Google the definition of "a rock and a hard place", and you will see a picture of China with billions of little dots flashing across your screen. Here is an export economy that is watching its biggest export markets collapse, and a financial economy that barely got a few years of illusory wealth out of its speculative mal-investment. An industrial economy that wrecked its environment in record time and left its population with toxic shit for water. Google India while you're at it.
Then there's that other country which boasts the third-largest economy in the world – Japan. Let's face it – if there is any one country for whom the bell tolls, then it is Japan. Between its zombie banking system, weakening export sectors, rapidly shifting demographics, lack of domestic energy resources and nuclear catastrophe that never ends, and can always get worse, the country has become a veritable disaster zone. Stick a fork in it.
Australia, Canada – the countries that miracously escaped the housing bubble and banking metldown. Or not. These comically complacent commodity countries can only muddle through by the skin of their knuckles for so long before the recent past catches up with them. WHEN the price of gas or gold or copper or… plummets with foreign demand, so do their financial sectors. Sorry guys, you almost made it, but not really.
Last and certainly least on my list of countries to rant against is the United States. This place is an amalgamation of the worst aspects of every other country. It's a financially-fragile, energy-dependent, consumerist-minded, generationally-entitled, politically-fractured, demographically-fucked imperial police state. We may make it to November elections in relative peace just because our crony political establishment and media spin machines will pull out every trick play in their playbooks to keep the mind-numbingly ignorant population with blinders on until then. After that, all bets are off.
I have really only been ranting about economic issues so far – haven't even bothered to mention systemic environmental degradation, energy scarcity, climate change, growing police states, escalating risks of slavery/genocide, never-ending wars, rising geopolitical tensions, and a whole host of other scary things that go bump in the night, EVERY night without fail. If you still recognize this world as the one from ten years ago, then you just aren't looking at it hard enough.
And, with that, I will end this rant and wish you all a pleasant Monday morning (or whatever time/day it is, wherever the hell you happen to be).