If anyone needs a reminder why the Greek people are so angry, frustrated and tired of the never-ending Euro crisis cycle, especially on this particular day of general strikes and protests, then we don't have to look much farther than the ECB. Overnight, the ECB deposit usage facility hit an all-time high of €503bn as banks take all the money borrowed from last year's 3-year LTRO at 1% interest and then some and lend it back to the central bank at 0.25%.
These banks obviously prefer to take a small loss and keep the cash safe at central bank [for now] rather than lend it back to a bunch of insolvent institutions, such as other banks or private corporations. Meanwhile, Lucas Papademos and his political flacks are trying everything they can to squeeze the Greek people out of €3.3 billion in spending on healthcare/education and pensions/wages. Where is their equivalent of the ECB?
Why do the Greek people have to take repeated punches to the face so the European politicians and banks, including those of Greece, get their €130 billion payoff from the Germans, French, Americans, etc? The Greek banks are going to write down the value of their Greek bonds (if a PSI deal is ever reached), and then immediately be recapitalized by the bailout cash. If that's not a reason to be a bit "up in arms", then what is?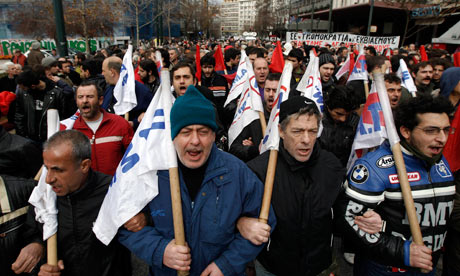 These people are not utterly clueless – they know any deal reached with the Troika and private creditors will not signify the end of anything, let alone the Greek debt crisis. Societe Generale put out a note this morning telling us that, if Greece's budget deficit and economic growth continue to follow the trend of missing forecasts over the next 8 years, then the Greek debt/GDP ratio will barely make it below 150% by 2020. That scenario would only take a miss of 1% to both Greece's target budget deficit and economic growth rate.
The austerity measures envisioned by the Troika and Greek politicians are almost guaranteed to give us those numbers from Scenario 2, at best. As English Kathimerini reported last night, and as debt deflationists have been pointing out for years, cuts to public spending and private income will feed back into negative growth, depressed consumption/taxes and successive budget shortfalls, which will feed into higher public debt as a percentage of GDP.
Troika talks continue ahead of party leaders' meeting

 

Another issue the leaders will have to finalize following their initial talks on Sunday night is the reduction in the minimum wage. The three leaders seemed to accept this in return for the idea of scrapping the 13th and 14th monthly salaries being dropped.

 

However, cuts to the minimum wage will have a knock-on effect because they will lead to a 1.3-billion drop in tax revenues and a 2.4-billion reduction in social security contributions. This means the government will have to make up for these losses. Furthermore, Papandreou, Samaras and Karatzaferis are also being asked to agree to scrap the law that allows terms of collective contracts to apply even after they have expired, meaning employers will have the ability to negotiate new deals based on lower wage structure.
The rest of the people in the European periphery, the European core and then the entire world should understand that their debts are going to be just as unsustainable over the next decade, and they are going to be squeezed for the running shortfall just like the Greeks have been, while their largest banks are "recapitalized" by their own money. Indeed, many of them already do understand that (which is the subject of an upcoming post).
The biggest issue in this entire drama still remains that of unfathomable inequality. both in levels of wealth and in treatment. Most of the people in Greece have already accepted lower standards of living, but they have also come to accept strikes and protests as a daily or weekly feature of their world. The reason is because they understand how fundamentally unjust it is for the Troika and their own political leaders to continue doing what they have been doing; to prop up the crumbling, neoliberal edifice of financial institutions at the expense of absolutely everyone and everything else.