Joel Meyerowitz Florida 1967

I get quite a few of my entries in the Debt Rattles from my Twitter feed; I follow 193 accounts, let, right, and everything in between.
Now I clearly see the attention in there shifting away from COVID to US politics. Not surprisingly, of course. But what happens in that shift sometimes is. Joe Biden tweeted yesterday that Trump three years ago called neonazis in Charlottesville "very fine people".
Now, we know that Trump did not do that, it's a blatant lie, and one which has been well documented, because we know what he did say, word for word. How and why then can Biden make that claim?
Easy: he knows -and his handlers do- that his supporters don't read or view anything in which this is explained to them. They simply believe Trump said that, because CNN and the NYT say so.
That's how far the US media landscape – and journalism in general- has sunken. Biden's tweet:
Three years ago today, white supremacists descended on Charlottesville with torches in hand and hate in their hearts. Our president said they were "very fine people."

It was clear then, and it's clear now: We are in a battle for the soul of our nation, and we must win.

— Joe Biden (@JoeBiden) August 12, 2020
But here's what Trump actually said:

And a clip of that:
After Charlottesville, President Trump said, "I'm not talking about the neo-Nazis and white nationalists, because they should be condemned totally."pic.twitter.com/fJfS6wOZpR

— Trump War Room – Text TRUMP to 88022 (@TrumpWarRoom) August 12, 2020
Even CNN's Jake Tapper said so. Maybe he can tell his colleagues the truth, refresh their memories?!
C'mon, get a grip on the numbers already!
Apparently this has been available for months. Let's start ASAP.
• COVID-19 Rapid Tests Demo (MedCram)
We've received your requests for a brief summary video (to share!) of Dr. Mina's research and how inexpensive (approx. $1), at-home, COVID-19 tests (results in 15 minutes) could be utilized to dramatically slow the spread of this pandemic (and open up schools etc. in a faster and safer way). Dr. Mina is an Assistant Professor of Epidemiology at the Harvard T.H Chan School of Public Health and a core member of the Center for Communicable Disease Dynamics. Dr. Mina's research has demonstrated that the sensitivity (accuracy) of these simple saliva or swab paper antigen tests (the technology already exists) is high enough to detect the vast majority of infectious #COVID19 and could be utilized frequently at home.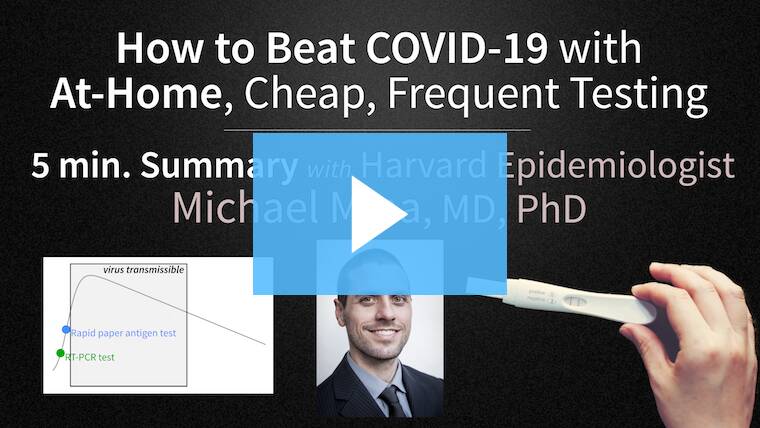 Frozen food? Isn't that a bit far out?
• Puzzling New Zealand Virus Outbreak Grows To 17 Cases (AP)
A puzzling new outbreak of the coronavirus in New Zealand's largest city grew to 17 cases on Thursday, with officials saying the number will likely increase further. And a lockdown in Auckland designed to extinguish the outbreak could be extended well beyond an initial three days. It was a turnabout from Sunday, when the South Pacific nation of 5 million marked 100 days without any cases of local transmission. For most people, life had long returned to normal as they sat down in packed sports stadiums and restaurants or went to school without the fear of getting infected. The only cases for months had been a handful of returning travelers who have been quarantined at the border. But then earlier this week, health workers discovered four infections in one Auckland household.

The source of the new infections continues to stump officials. Director-General of Health Ashley Bloomfield said genome testing has not yet matched the new cluster with any infections that have been caught at the border, although the testing has indicated the strain of the virus may have come from Australia or Britain. Auckland was moved to Alert Level 3 on Wednesday, meaning that non-essential workers are required to stay home and bars, restaurants and most businesses are shut. The rest of the country has moved to Level 2, requiring social distancing. The government is due to make a decision Friday on whether to extend Auckland's lockdown, which seems increasingly likely given the new cases. The good news for health officials about the latest 13 cases is that they could all be linked through work and family to the initial four cases, meaning there is no evidence yet of a wider community outbreak. Officials say they tested just over 6,000 people on Wednesday.


Prime Minister Jacinda Ardern said the outbreak was a reminder of the trickiness of the virus and how easily it can spread. "As with our first outbreak, we do have an expectation that things will get worse before they get better," Ardern said. "Modeling suggests that we will still see more positive cases. At this stage, though, it's heartening to see them in one cluster." Bloomfield said he expected that sooner or later the new cases would be linked to somebody who had arrived in the country with an infection or a worker at a quarantine facility, airport or maritime port. "At the moment we haven't established a direct connection," Bloomfield said. "But as we find each case and do that thorough interview and investigation, that will help." Some of those infected work at an Auckland refrigerated food facility, leading to speculation the virus could have survived from abroad on chilled or frozen food.
In the US, this will always be about money. The government buys billions worth of "maybe vaccines" whose research it has already paid for. Big Pharma sees the pandemic as a major profit opportunity. And both don't want some Russian vaccine to spoil their schemes.
• Russian Vaccine CEO: US Waging "Major Information Warfare" (ZH)
The global race among multiple nations to be the first to produce a coronavirus vaccine – especially the US, China, and Russia – has sparked not just competition to see who'll be first, but an information war in the wake of Moscow's announced breakthrough COVID-19 vaccine this week. The announcement of Russia's Sputnik V vaccine, developed by Moscow's Gamaleya research institute with help from the Russian defense ministry and expected to be available to the Russian public by October almost immediately drew widespread scorn and mockery in the West based on allegations Russia is skipping large-scale clinical trials. One Russian official told CNBC this week the US is waging "major information warfare" against the possibility of a successful Russia-produced vaccine.

Kirill Dmitriev, the CEO of the Russian Direct Investment Fund – which is backing the Sputnik V vaccine – said in comments Wednesday, "It really divided the world into those countries that think it's great news … and some of the U.S. media and some U.S. people who actually wage major information warfare on the Russian vaccine." "We were not expecting anything else, we are not trying to convince the U.S. Our point to the world is that we have this technology, it can be available in your country in November/December if that works with your regulator … [while] people who are very skeptical will not have this vaccine and we wish them good luck in developing theirs," he added.


Dmitriev claimed further that Russia does plan on sharing its data from the vaccine with the rest of the world, also at a moment World Health Organization officals said they wil move to review the COVID-19 vaccine candidate approved by Russian regulators on Tuesday. The WHO said it will require "a rigorous safety data review" before being available for use among citizens.
Brilliant. Solves much of the loneliness problem, makes sure peole get books, keeps them in touch. It's often in the little things that we find most value. Localize. Such approaches simply don't work nationwide, unless you have a real small nation.
• When COVID Closed The Library, Staff Called Every Member Over 70 (G.)
When Melbourne's Yarra Plenty regional libraries first went into lockdown in March, shut the doors and left the remaining unborrowed books on their shelves, staff were sent home with a phone. "One of the hardest things about lockdown was people being separated from their community," said Lisa Dempster, Yarra Plenty's executive manager of public participation. "The library is often a hub for the community, and we identified the most vulnerable cohort of our community would be the elderly." So the library staff pulled from their database the phone number of every library member over the age of 70 – a total of 8,000 records. Then the librarians started calling those members. All of them.


"We called them to say hi, see how they were doing, and then see if there was anything they needed help with, such as access to services, counselling support, tech help, that kind of thing. We would then refer them to a service that would help them," said Dempster. "What we've found mostly is that people are really up for the chat and love getting that call from the librarian. Some calls go for five minutes and some go for half an hour or more." Yarra Plenty's "caring calls" are just one of the ways that libraries around the state have been servicing community needs since the onset of Covid-19 shutdowns. From fine amnesties, to boosting the prominence of digital offerings, to simply putting books in the post, libraries have drastically changed the way they operate to accommodate the massive social changes imposed by governments during the pandemic, often with heartwarming results.
Gundlach was right: Biden WAS unelectable in March. But then a miracle happened.
• Smart Money On Trump To Win In November, Stocks Could Crash – Gundlach (MW)
Joe Biden/Kamala Harris in 2020? Not so fast, according to DoubleLine Capital's billionaire boss Jeffrey Gundlach, who predicted Donald Trump's win the 2016 election. 'Will Joe Biden beat Donald Trump in November? I don't think so. I'd bet against that. I think the polls are very, very squishy because of the highly toxic political environment in which we live. That's the so-called "Bond King," sharing his thoughts on the upcoming election in a webcast this week for DoubleLine's closed-end funds cited by Bloomberg News.


Harris, he said, won't likely change that because she's "a little too charismatic" and her personality "might be a little bit dominant." Then again, Gundlach didn't think Biden would win the Democratic nomination, having called him "unelectable" in March. Regardless, there are still "a lot of twists and turns" to come, he added. Biden is still the favorite, according to a RealClear Politics average showing a 7.3-point margin in the polls. His lead is narrower in key battleground states, where he's up an average of 4.3 points. As for the market, he said he wouldn't be surprised if stocks revisited their March lows, and, as Bloomberg reported, he forecast gold to keep moving higher.
They want her voters, not her ideas. And people are surprised at that? Wake up! This thing lasts for 4 days, and she gets one minute of that. What will Kasich get, half an hour? Look at who's in charge at the DNC. Same old same old.
• AOC Only Gets 60 Seconds At DNC To Deliver Pre-Recorded Message (F.)
Rep. Alexandria Ocasio-Cortez (D-N.Y.) will only have one minute to speak at the Democratic National Convention next week, Business Insider first reported Wednesday, prompting complaints the party was out of touch with young voters. The DNC will air a 60 second pre-recorded message filmed by AOC in her home. The convention is being held virtually because of the coronavirus, and speakers include former first lady Michelle Obama, Senate Minority Leader Chuck Schumer and former Mayor Pete Buttigieg of South Bend, Indiana, who will deliver a live speech on Thursday, according to Business Insider. Other progressive leaders such as Bernie Sanders and Elizabeth Warren are also slated to speak.


It's unclear if any other speakers are subject to the same time limits [..] Some slammed the Democratic Party for being out-of-touch with young voters, especially considering AOC's national profile. In addition to AOC's minute, the DNC speaker lineup has been widely panned by left-leaning activists for including former Ohio Gov. John Kasich, a Republican, while not giving enough time to Latino, progressive and LGBT politicians. Former candidate Andrew Yang said he expected to speak and was disappointed he was not chosen.
You need to buy just one vote, it must be unanimous.
• Romney Blocks Sen. Ron Johnson From Subpoenaing Comey, Brennan (GP)
A Senior Republican Senate source has confirmed to Gateway Pundit that Senator Mitt Romney is leading an effort to block Senator Ron Johnson from subpoenaing James Comey and John Brennan. Johnson, the Senate Homeland Security and Governmental Affairs Chair, said during a radio appearance on Wednesday that fellow Republicans were blocking him from subpoenaing the former FBI Director and former CIA Director, among other figures involved in the scandal. "We had a number of my committee members that were highly concerned about how this looks politically," Johnson told conservative radio host Hugh Hewitt, who pressed the Senator to name the Republicans blocking him. Johnson declined to name names.


Politico's Kyle Cheney reports that Johnson's committee said no one is blocking any subpoenas for Comey or Brennan, rather there's just a desire to exhaust all options to get them to testify voluntarily. However, shortly after Johnson made his claims, a senate source reached out to Gateway Pundit and confirmed that Romney is leading the obstruction. "Romney was for impeachment. He has been against Trump every step of the way. Now he is obstructing going after the leakers and liars who went after Trump," the senior senate source said. The obstruction claims come despite the fact that the committee gave him the unilateral power to subpoena people earlier this year.
China doesn't have a huge amount of dollars left.
• China State-Run Banks Quietly Complying With Trump's Hong Kong Sanctions (ZH)
On the surface, there is a non-stop tide of daily diplomatic drama and escalating jawboning between the US and China which – quite theatrically – will be at each other's throat at least until the conclusion of the Nov 3 election. However, behind the scenes, one can discern just who has the upper hand. According to Bloomberg, China's largest state-run banks operating in Hong Kong have taken "tentative steps" to comply with US sanctions imposed on officials in the city, seeking to safeguard their access to crucial dollar funding and overseas networks, and putting their financial future above their patriotic duty to defend questionable Hong Kongers who have fallen in the crossfire.

As a reminder, last week Trump sanctioned Chinese and Hong Kong officials including Hong Kong Chief Executive Carrie Lam, Xia Baolong, director of the Hong Kong and Macau Affairs Office of China's State Council, and Chris Tang, commissioner of the city's police for their role in implementing a security law in Hong Kong. The officials will have property and assets in the U.S. frozen; they also will be increasingly frozen by their own financial institutions. China's bank giants, most of which have operations in the U.S. including Bank of China, China Construction Bank, and China Merchants Bank have turned cautious on opening new accounts for the 11 recently sanctioned HK officials, including Lam, and at least one bank has suspended such activity. To avoid Trump's ire, at some banks transactions via the U.S. are banned, while compliance must now review and sign off on others that would previously have been immediately processed, Bloomberg sources said.


At the same time, foreign banks operating in Hong Kong such as Citigroup have already taken aggressive steps to suspend accounts or are increasing scrutiny of Hong Kong clients. The quick capitulation by China's biggest lenders once again underscores how Trump has weaponized the greenback and the ability of the U.S. to use the dollar's dominance in international transactions as a critical pressure point in the standoff with China. And since China's state-owned lenders need to preserve their access to global financial markets – with the Yuan years if not decades from even thinking about thinking about becoming a global reserve currency – they have quietly bent the knee to Trump to preserve dollar access at a time when Beijing has leaned on them to prop up the economy from the fallout of the coronavirus.
WHen your business model falls apart as soon as you must pay decent wages.
• Uber May Shut Down In California If Forced To Call Drivers Employees (V.)
Uber may shut down its operations in California, one of its largest markets in the US, if it is forced to classify drivers as employees, the company's CEO Dara Khosrowshahi said on MSNBC Wednesday. Earlier this week, Uber and Lyft were ordered by a California superior court judge to classify their drivers as employees. At issue is the classification of ride-hailing drivers as independent contractors, which Uber and Lyft say most drivers prefer because of the flexibility and ability to set their own hours. But labor unions and elected officials contend this deprives them of traditional benefits like health insurance and workers' compensation. Both companies have said they would appeal the ruling, which was stayed for 10 days.

But if their appeal fails, Uber may have to close up shop in California, Khosrowshahi said. "If the court doesn't reconsider, then in California, it's hard to believe we'll be able to switch our model to full-time employment quickly," he told MSNBC. In May, California Attorney General Xavier Becerra, along with city attorneys of Los Angeles, San Francisco, and San Diego, sued Uber and Lyft, arguing that their drivers were misclassified as independent contractors when they should be employees under the state's AB5 law that went into effect on January 1st. Becerra later filed a motion for a preliminary injunction that could compel the ride-hailing companies to classify drivers as employees immediately. AB5, which was signed into law last September, enshrines the so-called "ABC test" to determine if someone is a contractor or an employee.


In his ruling in favor of Becerra's preliminary injunction, Superior Court Judge Ethan Schulman said Uber and Lyft's arguments — that drivers' work is outside the companies' usual course of business — "flies in the face of economic reality and common sense."
There are valid reasons to investigate 5G, and when the Pentagon surrenders bandwidth at record speed, there are even more such reasons. It's being treated the same way as glyphosate currently, with people saying there's no evidence of harm. No, that comes later, which is why you need research now. Precautionary principle.
And no, comments like this don't help: "Those are precisely the frequencies they used to pull in the 'virus' from outer space ! And now they're selling them off to cover it all up! Or maybe they've embedded even worse viruses IN THOSE WAVELENGTHS & will now use apps to infect EVERYONE IN THE WORLD "
• Pentagon Gives Up Huge Slice Of Spectrum For 5G (BD)
After a remarkably fast interagency review, the White House today announced a massive transfer of electromagnetic spectrum from military use to commercial 5G. It will be the "fastest transfer of federal spectrum to commercial use in history," US Chief Technology Officer Michael Kratsios told reporters proudly this afternoon. But, Kratsios and Pentagon CIO Dana Deasy assured reporters ahead of the announcement, the rush won't compromise military readiness or operations. The 100 megahertz of spectrum runs from 3450 MHz to 3550, so-called mid-band frequencies prized by 5G developers because they allow longer-ranged transmissions than the millimeter-wave spectrum that makes up most of what's been available in the US so far.

Kratsios and other officials told reporters shortly before this afternoon's announcement that the move would dramatically expand 5G access for all Americans – fulling a congressional mandate in the 2018 MOBILE NOW Act – and strengthen potential competitors to Chinese giant Huawei in the global market. Currently, Deasy said, "the 3450-3550 mHZ band supports critical DoD radar operations, including high-powered defense radar systems on fixed, mobile, shipboard, and airborne platforms, [including] air defense, missile and gun fire control, counter mortar, bomb scoring [during training exercises], battlefield weapon locations, air traffic control, and range safety." That's a wide range of military functions, many with life-or-death significance for either training safety or outright combat. Deasy and other officials didn't detail how the Defense Department would work this massive transfer.


Their remarks, however, suggested a mix of migrating military radars to other frequencies – a complex and costly process typically funded from a share of the FCC auction – and sharing frequencies with commercial users in specific times and places. The White House formally made the request in April. Roughly 200 technical experts from all four armed services, the Office of Secretary of Defense, and the White House Office of Science & Technology Policy studied the problem for 15 weeks. The FCC, which has already endorsed the plan, will start auctioning the spectrum off in December 2021, Kratsios said, with commercial use beginning "as soon as mid-2022." That's as fast as the transfer can possibly go through the FCC's public rule-making process, officials said. Historically transferring spectrum takes six years or more. ""The timeline that we're working with is absolutely unprecedented," one senior administration official told reporters, "and I cannot underscore that enough."
I like the line of thinking. Ideas that once were mainstream start to look crazy.
• We Didn't Bleed Him Enough (CP)
Bloodletting was a common medical treatment for nearly 3,000 years. It developed around an idea, originating with Hippocrates and later wildly popular in Europe of the Middle Ages: that an imbalance of the four humours of the body – blood, phlegm, black bile, yellow bile – caused illness. Around 500 years after Hippocrates, Galen declared blood to be the most important humour. These and other ideas driven by surgical experimentation and, often, superstition, led to bleeding the body, ridding it of bad blood, if you like, to save the patient. Leeches were used for bloodletting, including the medicinal leech Hirudo medicinalis. We will never know how many people lost their lives across 3,000 years to this treatment, how many humans turned corpses, bled to death by the medico-ideological delusions of their doctors.

We do know that King Charles II of England had some 24 ounces of blood taken from him before he died. George Washington's three doctors drained him of copious amounts of blood (on his own request) to cure him of a throat infection – he died soon after. Covid-19 has given us a brilliant, thorough autopsy of neoliberalism, indeed of capitalism itself. The corpse is on the table, in glaring light, every vein, artery, organ and bone staring us in the face. You can see all the leeches – privatisation, corporate globalism, extreme concentration of wealth, levels of inequality unseen in living memory. The bloodletting approach to social and economic ills that has seen societies drain working people of the basics of decent and dignified human existence.

The 3,000-year-old medical practice reached its peak in Europe in the 19th century. Its discrediting came only with the late 19th and 20th centuries – but the doctrine and practice are still dominant in the disciplines of economics, philosophy, business and society. Some of the most powerful social and economic doctors around the corpse before us, analyse it much the way doctors in say, medieval Europe, did. As the late Alexander Cockburn, founder editor of CounterPunch, once said, when the Middle Ages medicos lost their patient, they probably shook their heads sadly and said: "We didn't bleed him enough." Precisely as the World Bank and the IMF have whined for decades that the horrific damage of their shock and awe treatment, of sometimes near-genocidal structural adjustment – was not because their 'reforms' went too far, but because their reforms, alas, did not go far enough, indeed were not allowed to, by the rowdy and great unwashed.


Inequality, the ideologically insane argued, was not such a dreadful thing. It promoted competitiveness and individual initiative. And we needed more of those. Inequality is now central to any debate we have on the future of humanity. The rulers know this. For over 20 years now, they've been savaging the suggestion that inequality has anything to do with humanity's problems. Early this millennium, the Brookings Institute warned against this debilitating discussion on inequality. Less than 90 days before Covid-19 swept the world, The Economist magazine, neoliberalism's Oracle of Delphi, read the chicken entrails before it and ran a bitter cover story: "Inequality Illusions: Why wealth and income gaps are not what they appear." Could turn out the most famous last words since Tarzan's – "who greased the grapevine?"
We try to run the Automatic Earth on donations. Since ad revenue has collapsed, your support is now an integral part of the process.
Thank you.
Biden train
— Donald J. Trump (@realDonaldTrump) August 13, 2020
Support the Automatic Earth in virustime.