Dorothea Lange Sleeping gypsy in El Paso, Texas, waiting for streetcar to Mexico June 1938

So what are we going to do over the weekend? For many of us it'll be a lot of nerves and anguish over the rattling of sabres and armored personnel carriers by the Black Sea, and there's not much we can do about it. Maybe a good time to take store of friends and loved ones, and spare a thought and prayer for all the Crimeans and Ukrainians who want nothing but what we want as well, peace and sunshine and a quiet weekend with their families.
It's anywhere between hard and impossible to figure out what's going on out there, but our western media sure are not telling us the truth and nothing but the truth. It's a major propaganda bubble on all sides, and that leaves nothing but losers in its wake. It could still change the map of the world with no turning back, however, and have a lot of blood be shed in fields and city streets as it does.
For me personally, it's an aberration that John Kerry gets to speak for not just the US, but the entire western world, because Kerry is one of Capitol Hill's army of borderline psycho coneheads who represent interests, not people. The man's a stooge. Which makes it all the more interesting to see Ron Paul state that Putin has the law on his side. And it makes one wonder why that difference in view in Washington is not debated on the Hill before Kerry moves on to his next meeting to tell the Russians to put up or shut up. If for no other reason than a message like that sounds silly coming from him, and not a single Russian is fooled.
But in the meantime this hairdo in search of working neurons could cause a lot of pain for mothers and children who happen to live in the line of fire. And we can say one more time that we expected better from Obama, but that got to sound repetitive and silly a while ago, not to mention devoid of credibility.
If things go wrong, there's no telling what the world's economies will look like by Monday. There's so much zombie capital keeping the system afloat today that a mass fear driven kneejerk into what is perceived as safety could wipe out more of it than entire nations are worth. Such a move back into reality would be good on some fronts, but who wants to see lives lost over it?
What has been lost a little in translation and hubris is that China has put its voice behind Russia, but there's no way Kerry and Merkel haven't picked up on that loud and clear. If they want to play cops and robbers and sanctions and boycotts, they may find they're shooting their own feet in the crazy house or mirrors they've created.
And even if the Kiev unrest is toned down at the last minute, there may be so much economic uncertainty shaken loose over the past while that matters start to plummet out of hand anyway.
Most pundits keep on claiming that the Chinese government has it all under control, and it's only trying to reform the system, and isn't that a great thing, but I'm thinking first of all Beijing has never tried anything like it, and second given the size of shadow banking one really needs to wonder how much control they actually have. From where I'm sitting what happens in China today could just as easily be part of an ordinary power struggle, and moreover one that unfolds while the country has some very serious problems that are unrelated to whatever reform is or is not intended to take place.
That 18.1% plunge in Chinese exports is still front and center in my mind when I read the news. That's a very big number. And when their president and PM try to make it look as if they sort of meant for events to happen as they do, and say all they really care about is creating jobs, I simply don't see how they're going to do that with that sort of drop in exports, the one segment in their economy that keeps the whole thing going to begin with.
We're 2 weeks and change away from Japan's dreaded sales tax rise, and there is just no way those two weeks will not be filled with people taken cover and seeking shelter, be they investors or ordinary citizens. There's too much risk for everyone but a few daring risk takers. And if the deflationary last twenty years have shown us anything, it's that the average Japanese is not a great risk taker. So the velocity of money can only go down, and no matter what I read about inflation in Japan, that is a surefire way to get quagmired even deeper in deflation, and Abe's stimulus to compensate for the sales tax hike won't change that (it'll only make that tax hike look stupid, because net revenue will be ridiculously low).
How will longer will Shinzo Abe call the shots? Hard to gauge, if only because Japan doesn't seem to have any other way to go anymore. Unless perhaps it goes for self-sufficiency in a big way, but that's so not 21st century and globalization and having your politics dictated by the financial system that it's going to take a big old battle to get there. In Japan like in so many other places.
I hope you have a good weekend, and especially if you're in Ukraine. Take care and take shelter. I thought I was going to leave you for the weekend with Neil Young's Out on the Weekend:
But then I figured there's no way I can not add Helpless as well. After all, how fitting would you like it?
• China's Downhill Move Picks Up Steam (Phil Davis)
China is the reason so many companies tell you how great their prospects are. TSLA is going to China, YUM and MCD sellso much fast food in China that now Chinese people are getting fat and having heart attacks – just like we do! Casinos make their money in China, luxury goods manufacturers do significant portions of their sales there and, of course, it's the raison d'etre for the commodities industry.

But what if China is a fairy tale and, rather than a decade of growth ahead, we have a decade of stagnation or, even worse, contraction on the other side of the World? As you can see from Dave Fry's FXI chart (above), the Chinese market has gone nowhere this whole decade – DESPITE the S&P starting 2010 at 1,100 and gaining 68% since then.
This morning we got data out of China showing Industrial Production growth slowed to 8.6% from 9.7% measured just a month earlier and no, it wasn't the weather. Retail Sales fell to 11.8% from 13.6% and Fixed Investments fell to 17.9% from 19.6% and none of those are BAD numbers (still growth, just slower) but, as I pointed out in Monday's post, bank loans and the bond market there are in no way priced for slower growth.
China's GDP is "only" $8 trillion, a little over 10% of the World's total. Our GDP is $17 trillion and Europe clocks in at around $18 trillion ($20+ trillion if you include the UK) and Japan is $6 trillion. Russia is $2 trillion, India $2 trillion, Australia $1.5 trillion, Mexico and South Korea are over $1 trillion and then there's the rest.

If the rest of the World is going up 3.5% instead of 2.5%, then we can easily shake off a 2.5% pullback in China – but we have to be VERY SURE we have a good balance going forward. More importantly, we have to be more realistic about the prospects of our corporations and think about whether their sky-high valuations are likely to be realized in a market where growth prospectsin China are no longer infinite.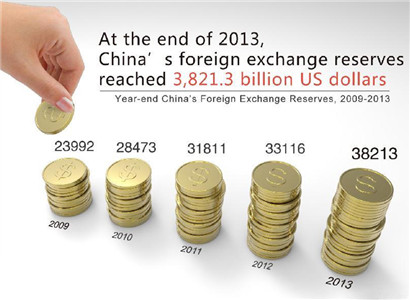 (Picture source)
Of course China is a "planned" economy and that means they can keep growing the economy by force if they want to. Last year alone, China bought $500Bn worth of debt from the US to keep the Dollar strong against the Yuan, which keeps the export wheel spinning.

With an $8 trillion economy holding $4 trillion of US debt, China needs to be VERY concerned about our stability, the same way we would be if we held $8.5 trillion worth of Chinese debt. But there's the real problem – we don't hold $8.5 trillion, or even $1 trillion of the $100 trillion worth of Chinese debt (see Monday's post for breakdowns) – that's owned by Asia and Europe and most of all by the Chinese people, who have been convinced to pour their savings into Chinese Corporate Bonds which never (until now) defaulted.

Of course your economy is going to grow 7.5% a year when you are paying 10% interest rates on bonds that "never" fail – how could it not? Maybe we should start doing that in the US. After all, what can possibly go wrong? If you can think of a few things – then we need to be concerned about China…
• China Stimulus Looms as Investment at 13-Year Low (Bloomberg)
China's weakest start to a year for investment growth since 2001 and unexpectedly slow industrial production add pressure for economic stimulus, just as Premier Li Keqiang signals he wants to avoid such a move. Li, at his annual press briefing in Beijing yesterday, indicated he's confident that economic goals for 2014 are within reach. Two hours later, data showed factory output rose in January and February from a year earlier by the least since the global financial crisis, while retail sales grew at the slowest rate for the period since 2004.

The figures increase chances that China will take steps to boost growth including the first cut in almost two years to lenders' reserve requirements, according to Societe Generale SA. Any threat to jobs, incomes and a 7.5% growth target could test the leadership's resolve to curb pollution choking major cities, rein in shadow banking and control risks from a credit boom.

"They are serious about reforms and they are serious about protecting the growth target and particularly the employment part of that," said Tim Condon, head of Asia research at ING Groep NV in Singapore, who previously worked for the World Bank. "We're close to a decision point" on whether stimulus is needed, he said.

A weakening in the yuan this year and declining interbank interest rates indicate the government is already trying to help the economy, according to Bank of America Corp. Its Hong Kong-based economists yesterday cut their first-quarter growth forecast for China to 7.3% from 8% and their full-year estimate to 7.2% from 7.6%. At least five other institutions including Nomura Holdings Inc., JPMorgan Chase & Co., UBS AG, Mizuho Securities Asia Ltd. and Daiwa Capital Markets trimmed their China expansion forecasts following yesterday's data.

China was able to realize last year's economic targets without using short-term stimulus measures, Li said yesterday. "Why will we be unable to do so this year?" he asked. Ma Jiantang, head of the statistics bureau, said China's economy is "off to a good start" for the year with major indexes at "relatively high levels," according to an article in today's People's Daily, the Communist Party newspaper. He said he's confident that China can achieve 2014 targets and that employment in the first two months was "good," according to the paper.

"If there's a policy response, the response will be selective and restrained, instead of an all-out stimulus," said Qu Hongbin, chief China economist at HSBC Holdings Plc in Hong Kong. Possible measures including lowering barriers to private investment and speeding up spending on infrastructure such as subways, Qu said.
• China Bond Risk Exceeds Ireland as Defaults Unavoidable (Bloomberg)
China's default risk has risen beyond that of Ireland, having been on par with France and Japan a year ago, as Premier Li Keqiang said financial leverage is making the economy's outlook more complex. Five-year contracts protecting against non-payment on government debt climbed to 99 from 63 a year earlier, almost double the 49 for Japan and 51 for France, CMA credit-default swap data show. That compares with 88 for lower-rated Ireland, which exited a bailout in December. The yuan has lost 1.3% in the past month, the most in Asia, while the Shanghai Stock Exchange Composite Index has declined 5.2%.

This year's 7.5% economic expansion target is "flexible" and some financial product defaults may be unavoidable, Premier Li told a press conference at the National People's Congress yesterday. A report showed industrial production growth slowed, making it harder for companies to repay debt. Shanghai Chaori Solar Energy Science & Technology Co. (002506) became the first onshore bond issuer to default last week.

"China's major default risks stem from the explosive credit growth into infrastructure, real estate and mining projects that failed to deliver returns," said Wee-Khoon Chong, Singapore-based head of rates strategy Asia ex-Japan at Nomura Holdings Inc. "We expect more defaults in corporate or local government notes this year, but we do not expect them to lead to a systemic disruption of the financial system."

China's leaders are wrestling with the fallout from a credit boom that began with a 2008 stimulus package, funded with off-balance-sheet financing arranged by local governments and banks. While those efforts avoided putting strain on state banks and the central government, they are less transparent.

Regional authorities, which aren't allowed to sell debt directly, set up thousands of financing vehicles to raise funds to build subways, highways and sewage works. Their liabilities rose to 17.9 trillion yuan ($2.9 trillion) as of June 2013 from 10.7 trillion yuan at the end of 2010, according to National Audit Office data.

China's $6 trillion shadow-banking industry, which includes trust companies and wealth management products issued by banks, was rated the nation's biggest challenge in a Bloomberg News survey of 29 economists before the annual meeting of lawmakers started March 5.

In January, a near-default was averted when a 3 billion yuan China Credit Trust Co. product that lent money to a collapsed coal miner was bailed out. Jilin Province Trust Co., which missed five interest payments on a similar security, declined to comment on the sixth installment that was due this week.

"We don't want to let today's stepping stone become tomorrow's stumbling block," Premier Li said yesterday while stating that the government will increase oversight of financing vehicles to ensure there are no regional or systemic risks. "I'm afraid that sometimes certain individual cases of such defaults are hardly avoidable."
• China's Big Four Banks See $70 Billion Vanish From Stocks (Bloomberg)
The world's most-profitable banks have never been so unloved by stock investors. China's four-biggest lenders, which reported $126 billion of earnings in the 12 months through September, sank to the lowest valuations on record in Hong Kong trading yesterday. The MSCI China Financials Index dropped to an almost decade low versus the global industry benchmark while the market value of Industrial & Commercial Bank of China Ltd., the nation's largest lender, fell below net assets for the first time on March 12.

The state-controlled banks known as China's Big Four are getting squeezed by slower economic growth and rising bad debts just as policy makers open up the nation's financial system to non-government competitors. Their shares have lost $70 billion of value this year, equivalent to the size of New Zealand's entire stock market, even as U.S. and European peers rally. Wells Fargo & Co. and JPMorgan Chase & Co. have knocked ICBC from its ranking as the world's biggest bank by market value.

"The market is concerned about future profitability" in China, Diana Choyleva, the head of macroeconomic research at Lombard Street Research, said by phone from London on March 11. "I would not be investing Chinese bank shares just yet. They have further to go."

ICBC, China Construction Bank, Agricultural Bank of China and Bank of China were stock-market darlings as recently as 2011, when the world's second-largest economy was growing at close to 10% and banks reaped profits from a $3 trillion lending spree during the previous two years. Now investors are concerned that those loans will turn sour at an increasing rate as growth slows toward 7.5%, the weakest annual pace since 1990.

At the same time, the ruling Communist Party's plan to increase the role of markets in China poses a threat to state-owned banks that have benefited from tightly regulated interest rates. Central bank Governor Zhou Xiaochuan said on March 11 that the government will free up deposit rates within two years, while the China Banking Regulatory Commission said the same day it has approved a trial program to establish five privately-owned banks.

"The more the government moves to freeing the market, the more they have to compete on more level terms," Michael Aronstein, whose $21 billion MainStay Marketfield Fund has outperformed 96% of peers tracked by Bloomberg during the past three years, said in a phone interview from New York. "They are not prepared to do that. It's like releasing your house cat into the jungle."
• Ron Paul: Putin's Crimea Invasion "Has Law On Its Side (ZeroHedge)
The West will claim "everything Putin does is illegal," but while Ron Paul notes "he's no angel," the former congressman adds Putin "has some law on his side." America has a right of secession and Crimea should have it too – "it's such a facade," Paul explains, noting that "contracts, and agreements, and treaties" linked to the Sevastopol base provide Putin with a legal basis to militarily occupy Crimea, "Russia could accuse America of occupying Cuba because it, too, holds a lease on the land around the Guantanamo Bay prison."
Paul goes on to note the hypocrisy of the West and alleges US and European participation in the overthrow of Yanukovich… and for good measure discusses Diane Feinstein, the CIA and spying…
• Russia Must Stop U.S. Expansion in Ukraine (Moscow Times)
Today, as a result of the Ukrainian crisis, U.S.-Russian relations have hit their lowest point since the invasion of Afghanistan in 1979 or of Czechoslovakia in 1969 — or perhaps even since they bottomed out during the Cuban Missile Crisis. The Crimean crisis, which began as a power struggle between the ruling authorities in Kiev and opposition forces, transformed in to an attempt to overthrow Ukrainian President Viktor Yanukovych by pro-Western and nationalist opposition forces with the support of the U.S. and European Union.

The crisis escalated into a conflict between the U.S. and Russia after the West supported a coup, then lied by violating the Feb. 21 agreement when it recognized the formation of a new and illegitimate government of extremists. This conflict has the potential of sparking a new Cold War — something I never thought could happen in modern times since I believed it would have to be rooted in ideological differences. Instead, Moscow and Washington have billions of dollars of economic interests at stake, making this a geopolitical rather than an ideological Cold War.

Moscow does not see the revolution in Ukraine as an attempt to create a more democratic or law-based society. Instead, it sees the events in Kiev as an attempt to make Ukraine as anti-Russian as possible. The new government represents a minority of the Ukrainian population. It wants to suppress the Russian-speaking majority and violate their right to representation by holding unfair elections on May 25.

Moreover, U.S. President Barack Obama and German Chancellor Angela Merkel deceived President Vladimir Putin when they pursuaded him to convince Yanukovych to refrain from using force to quell the Maidan, and then to sign the Feb. 21 agreement — which they refused to uphold. Instead, they told Russia to accept the new reality in Ukraine. But why should Moscow accept that reality when it is directed against Russia, democracy and human rights?

What did Russia do to become the focus of so much animosity? Is it because it prevented the West from bombing Syria? Because it persuaded Yanukovych not to sign the Association Agreement — a treaty of little real importance to the EU? Those are trivial reasons for starting a new Cold War.

It seems that the West simply does not like Putin. He is a huge obstacle who prevents them from achieving global hegemony. For this reason alone he must be broken. Nobody in Moscow has any doubt that what happened in Ukraine will be repeated in Moscow in two or three years. Without Putin, there will be few world leaders left who have the power or courage to stand up to Washington. When this happens, the entire world will have to quickly accept the new reality.

Russia is not in Crimea to expand its territory but to oppose the immense power of West and its financial institutions in New York and London. Washington wants to characterize this as a conflict between Moscow and Kiev, thereby forcing Russia to negotiate with an illegitimate regime determined to destroy everything Russian in Ukraine. However, everyone understands that this is a conflict between Moscow and Washington and that these countries should negotiate a solution. The question here is not Crimea but which reality the two sides are prepared to accept.

Should Moscow allow Washington to force it into humiliating submission and accept the possibility of a violent overthrow of the Putin regime? Or should Washington acknowledge that it can no longer impose its will on others? Both sides are unwilling to admit their weakness, thus making a geopolitical Cold War likely. The West will hit Russia with economic sanctions to pressure Russian oligarchs into forming a fifth column, just as it did in Ukraine. To avoid this, Moscow will have to force oligarchs to bring their overseas assets back to Russia.

If Washington wins this geopolitical Cold War, it will install a pro-Western government in Moscow which could lead to the breakup of Russia. Siberia, the Caucasus and the Far East will demand autonomy, and the country's oil and gas resources will be transferred from the government to multinational corporations.

However, it is possible that Russia can resist, thereby fulfilling its historical mission of foiling the designs of those who long for world domination. Just as Russia stopped Hitler in the 20th century, Napoleon in the 19th century and Frederick the Great in the 18th century, it will stop Washington in the 21st century. This is nothing personal, just business. Russia has its historical mission to fulfill. [..]

Sergei Markov is director of the Institute of Political Studies.

When you use terms like fascist and neo-nazi again and again, you're going to lose my attention. We want facts, not slurs.
• Who's Who in Ukraine's New Government (Globalresearch.ca)
A few weeks before the Feb. 24 coup, U.S. Assistant Secretary of State for European and Eurasian Affairs Victoria Nuland, then in Kiev to support the anti-government protests, was recorded calling for Yatsenyuk to become the new leader. Yatsenyuk is a banker, very Western-oriented, and seen as sure to accede to the demands of the International Monetary Fund and the international banks for austerity measures in exchange for a "bailout" of the Ukraine's debt. In addition, Yatsenyuk is not from an overtly fascist party, a major public relations advantage for Western imperialist backers of the new regime.

The new Secretary of the powerful National Defense and Security Council is Andriy Parubiy, who is also listed as being from the Fatherland party. But here the murky divide between the right-wing and fascist parties comes into view. Parubiy was co-founder of the Social National Party in 1991, an openly fascist party whose symbol was the "Wolfsnagel," which closely resembles a swastika. The SNP changed its name to Svoboda ("Freedom") in 2004, and has tried to somewhat moderate its image while retaining its neo-Nazi core. It was only in 2012 that Parubiy ran on the Fatherland ticket. During the opposition demonstrations in the Maidan Square, he was known as "the commandant."

Parubiy's deputy is Dmytro Yarosh, who was the leader of the fascist Right Sector's para-military forces in Maidan. In a recent BBC video, a Right Sector leader said: "National socialist [Nazi] ideas are popular here…We want a clean nation, not like under Hitler, but a little bit like that." The new Defense Minister is Ihor Tenyukh, former head of the Ukrainian navy and from the Svoboda party. Oleksandr Sych, also from Svoboda, is one of three Vice Prime Ministers.

Another key post held by an open Svoboda member is that of Prosecutor-General. Oleg Makhnitsky is now the equivalent of Attorney General in the U.S., and has immediately set out to indict the leaders of Crimea who do not want to live under the new order in Kiev. Svoboda also holds the ministries of ecology and, especially critical in the Ukraine, agriculture in the new government.

Though not named as a government minister—clearly by choice—Oleh Tyahnybok is the leader of Svoboda, of which he was also a co-founder when it was known as the Social National Party. Now he is one of the most powerful figures in the country. While Tyahnybok sought to moderate Svoboda's public image beginning with the name change in 2004, a speech he gave the same year showed just how paper-thin that cover was.

Speaking at memorial to a commander of the Ukrainian Insurgent Army (UIA) that collaborated with the Nazis and massacred tens of thousands of Poles, Jews and communists, he called for Ukrainians to fight the "Muscovite-Jewish mafia" which he claimed were running the country. Tyahnybok praised the UIA and the Organization of Ukrainian Nationalists led by Stepan Bandera, who "fought against the Russians, Germans, Jews and other scum who wanted to take away our Ukrainian state." (For the terms "Russians" and "Jews," he substituted extremely derogatory slurs).

In 2005, Tyahnybok signed an open letter to Ukraine leaders denouncing the "criminal activities" of "organized Jewry" who, he claimed, wanted to commit "genocide" against Ukrainian people. Support for the fascists is surging in the Ukraine. In 2006, Svoboda received .36 of 1% in the elections; in 2012 it became the fourth largest party in the Rada (parliament) with 10.45% of the vote and 37 seats out of 450. In a public opinion poll taken at the beginning of February, 54% said they would vote for Tyahnybok for president if he ran against Yanukovych. (The poll was held three weeks before the overthrow of Yanukovych.)

The smiling faces of Victoria Nuland and Sen. John McCain, among other U.S. officials, have appeared in countless photos with Tyahnybok in recent months.
I don't know how real this report is. But neither do I know about reports that claim the opposite.
• Kiev snipers shooting from building controlled by Maidan forces (RT)
Former chief of Ukraine's Security Service has confirmed allegations that snipers who killed dozens of people during the violent unrest in Kiev operated from a building controlled by the opposition on Maidan square.

Shots that killed both civilians and police officers were fired from the Philharmonic Hall building in Ukraine's capital, former head of the Security Service of Ukraine Aleksandr Yakimenko told Russia 1 channel. The building was under full control of the opposition and particularly the so-called Commandant of Maidan self-defense Andrey Parubiy who after the coup was appointed as the Secretary of the National Security and Defense Council of Ukraine, Yakimenko added.

Furthermore the former security chief believes that Parubiy has been in contact with US Special Forces that could have coordinated the assault. "Shots came from the Philharmonic Hall. Maidan Commandant Parubiy was responsible for this building. Snipers and people with automatic weapons were 'working' from this building on February 20. They supported the assault on the Interior Ministry forces on the ground who were already demoralized and have, in fact, fled," Yakimenko said in an interview with Russian television.

The police officers were chased by a group of rioters armed with various weapons and at that point, Yakimenko says snipers fired at pursuers themselves. "When the first wave of shootings ended, many have witnessed 20 people leaving the building," former chief says, noting that they were well-equipped and were carrying military style bag for carrying sniper and assault rifles with optical sights. Not only the law enforcers, but people from the opposition's Freedom, Right Sector, Fatherland, and Klitschko's UDAR party have also seen this, Yakimenko claims.

The former security head also said that according to the intelligence those snipers could be foreigners, including mercenaries from former Yugoslavia as well former Special Forces employees from Ukraine's Defense Ministry.

Yakimenko claims that Parubiy was part of a group that was heavily influenced by the people associated with the US secret services. "These were the forces that carried out everything that they were told by their leadership – the United States," Yakimenko explained, claiming that Maidan leaders practically lived in the US embassy.
RBS should have been cut into little bite size bits long ago. Instead, here's more taxpayer money circling the drain.
• Royal Bank of Scotland Nears Junk Bond Status After Moody's Downgrade (Guardian)
Royal Bank of Scotland has edged closer to junk bond status after a leading credit ratings agency downgraded the state-controlled bank's debt following record losses and fears of regulatory punishment. Moody's also warned of further downgrades as it expressed concern about the bank's plan to revive its fortunes in the wake of a £8.24bn loss in 2013 – its sixth successive year of losses.

Andrea Usai, a senior credit officer at Moody's, said: "Over a longer-term horizon, RBS's restructuring plan should be beneficial for creditors if executed according to plan. "However, the plan is large and complex, carrying significant execution risk in the short to medium term, happening at a time when the bank has limited financial flexibility to manage unforeseen events, which could arise either from the plan or from other sources, such as further litigation or conduct costs."

RBS has reportedly suspended three currency traders as regulators around the world continue their investigation into potential rigging of the £3tn-a-day foreign exchange market . The Bank of England governor, Mark Carney, said this week that the forex investigation could become a larger scandal than the manipulation of Libor, the benchmark interest rate. Meanwhile, in January, the 81%-taxpayer owned lender warned of a further possible £3bn in costs from litigation relating to mortgage-backed securities, payment protection insurance and interest rate hedging products.

The new RBS chief executive, Ross McEwan, – who has described his employer as "the least trusted bank in the least trusted sector in the marketplace" – outlined his plan to return the bank to profit when he revealed the latest losses at the end of February. The strategy includes refocusing on the UK rather than global customers and shrinking the bank from its seven businesses to concentrate on just three: personal and business banking, commercial and private banking, and corporate and institutional banking.

Delivering its verdict on the plan, Moody's said it could "heavily depress profitability over the next few years". Moody's had warned RBS last month that it was considering downgrading its debt, which is effectively a corporate credit rating and determines the interest rate at which businesses can borrow.
China exports are down. Japan exports are down. UK exports are down. Any questions?
• Britain's Trade Position Worsens After Fall In Exports (Guardian)
Britain's trade position worsened in January, as diminishing demand for British goods abroad triggered a fall in exports. The trade in goods deficit – exports minus imports – widened to a worse than expected £9.8bn in January from £7.7bn in December, according to the Office for National Statistics.

The government's ambitions to rebalance the economy away from debt-fuelled spending and towards exports were disappointed by a 4% fall in exports in January to £24.2bn. Imports however increased by 3.4% to £34bn, as an improved economic backdrop boosted domestic demand for foreign goods.

"January's trade figures continue the disappointing run of news on the UK's export performance," said Samuel Tombs, UK economist at Capital Economics. He said the fall in exports might partly be explained by the recent strengthening of the pound, with a risk it was starting to have an adverse effect on the UK's economic recovery. He added: "With demand from the UK's main trading partners in the eurozone unlikely to rise significantly soon, we continue to think that the UK's economic recovery will receive little in the way of support from the external sector this year."

Part of the weakness in the UK's trade position in January could be explained by distortions of erratic items, in particular strong imports of aircraft. While imports from the European Union – Britain's biggest trading partner – were flat at £18bn, imports from outside the EU jumped 7.5% to £16bn in January. Goods exports to the EU fell by 3.7% to £12.2bn, while exports to non-EU countries fell more sharply by 4.3% to £12.1bn. The broader trade in goods and services also widened sharply to £2.6bn in January from £700m in December.

In 2012 the chancellor, George Osborne, set a target of doubling UK exports to £1 trillion by 2020. However, UK exports have remained flat since mid 2011 according to the ONS, reflecting continuing difficulties in many economies as the impact of the global financial crisis is still felt. Brighter news on the UK economy came from the construction industry, with separate data from the ONS showing output in the sector rose by a better than expected 1.8% in January compared with a year earlier.

Rob Wood, chief UK economist at Berenberg, said that taken together the trade and construction data suggested the growth in the first quarter of 2014 would be reliant on domestic activity. "The UK economy is heading for another strong domestically driven quarter of growth in early 2014, that will drag in imports and may worsen the sizeable trade deficit. Stimulated by booming house prices, and showing little ill effect from the weather, construction output rose 1.8% month on month in January."
GE's finance unit was declared too big to fail a few years ago. It should have been eliminated instead. See how the NY Times phrases this? "… the Financial Stability Oversight Council has designated the lender as a systemically important financial institution, subjecting it to greater regulatory scrutiny." As if being too big to fail means you get to be watched all the time. And people still call that a quality paper?!
• G.E. Files to Spin Off Retail Finance Unit (NY Times)
General Electric filed on Thursday to spin off its North American retail finance unit in an initial public offering, taking the next step to reduce the size of its GE Capital division. In a filing with the Securities and Exchange Commission, the business, which handles store cards for the likes of the Gap and Walmart, said it planned to rename itself Synchrony Financial.

The move is intended to help the conglomerate downsize GE Capital, which had been one of the biggest moneymakers for the conglomerate since the era of Jack Welch. At one point, GE Capital brought in just under half of all G.E.'s revenues. But it ran into trouble during the financial crisis because of its huge holdings in both commercial loans and, thanks to a subprime lender it had purchased, risky home loans. In the immediate wake of Lehman Brothers' collapse, shares in G.E. plummeted, as concerns grew about the company's ability to support its financial arm.

Since then, G.E. has aimed to become less reliant on GE Capital, transforming it into a smaller, stable industrial lending business. Even so, GE Capital remains an enormous institution. Last year, it reported $44.1 billion in revenue, or about 30% of its parent's overall consolidated revenue. The federal government's Financial Stability Oversight Council has designated the lender as a systemically important financial institution, subjecting it to greater regulatory scrutiny.
The number of countries declaring themselves in favor of shale keeps rising, the EU even voted to keep shale out of new environmental laws. But Big Oil is massively ditching their assets. Who, oh who is right?
• Shell Cuts Spending In U.S. By 20% To Lower Shale Exposure (Reuters)
Royal Dutch Shell will cut spending by a fifth and lay off staff at its American exploration and production business, the company said on Thursday, in another sign that oil majors are struggling to profit from the booming U.S. shale sector. Oil and natural gas pumped from North American shale have proved a boon for many smaller energy businesses, but the world's biggest oil companies, including BP and Exxon Mobil, have had less success unlocking the prolific rock's full potential.

London-based BP announced last week that it is to spin off its onshore U.S. oil and gas assets into a separate business to improve performance. "Financial performance there is frankly not acceptable … some of our exploration bets have simply not worked out," said Ben van Beurden, who was head of refining before being promoted to Shell's top job at the start of the year. Oil companies active in North American shale have broad exposure to profit-sapping U.S. natural gas, prices of which fell to their lowest in a decade during 2012 but rebounded as a cold winter depleted gas in storage.

Sentiment on the outlook for the fuel is improving with the prospect of liquefied natural gas (LNG) exports and increased industrial use, but uncertainty remains. The spending cuts announced on Thursday follow Shell's decision in January to suspend its controversial Arctic drilling programme and pledge to cut capital expenditure and streamline operations worldwide after the company's least profitable fourth quarter in five years. "I don't think it is a matter of trying to reinvent the company in a fundamentally different way; it is a matter of tackling some of the issues that we know need tackling," van Beurden told journalists on a conference call after Thursday's strategy update.

The Anglo-Dutch oil major is sticking to its 2014/15 asset divestment target of $15 billion, of which $4.5 billion has already been announced. It also said that it is too soon to say whether capital expenditure will decline next year from the planned $35 billion this year. Shell, which is already selling more than 700,000 acres of U.S. shale assets, said it will cut permanent staff and contractors in North American onshore oil and gas exploration by 30 percent.

The intent is to reduce headcount this year by about 400 Shell staff to about 1,400 people, many of whom will be redeployed to higher priority projects, a Shell spokeswoman said. The number of contractors working in this area for Shell is smaller than the number of permanent staffers, she added. The company last year lost $900 million in its upstream Americas unit.

Shell owns shale gas acreage in the Mercellus shale in Pennsylvania, Texas, Colorado and Kansas, more of which it said it may have to sell. Besides the Americas, global downstream operations also remain a drag on business because of low refining margins as well as oil theft in Nigeria that cost the company close to $1 billion last year. Shell is also involved, together with Exxon Mobil, Total, Eni and KazMunaiGas, in the giant Kashagan oil field in Kazakhstan, which has been plagued by start-up problems.

Shell said the field had the potential of generating $1 billion in annual cashflow for the company but acknowledged that the production outlook remains unclear. Van Beurden added that Shell operations in Ukraine, where it has a number of pump stations and early exploration works, have not been affected by the country's dispute with Russia and that Moscow's intervention in Ukraine has so far had no impact on the company's investment decisions in Russia.
"The map is not the territory". And Alan Greenspan is neither a good human being nor a smart one.
• Economic abstractions conceal the true contours of human life (FT)
In Alan Greenspan's recently published book, he argues that the economist's assumption of rationality is inadequate to describe human behaviour, and that banks that are too big to fail are too big. These are not novel opinions; what is – mildly – significant is that it is Mr Greenspan who is expressing them. The former US Federal Reserve chairman also claims that government spending on Social Security and Medicare, the healthcare programme for the elderly, is drawn more or less dollar for dollar from business investment. And he thinks that economic forecasting is difficult.

Perhaps the most interesting thing about the book is the title. Why is it called The Map and the Territory ? I could not find reference to map or territory in it. And I was looking for such references, because more than two years ago I wrote an essay on the state of economics called "The Map is not the Territory". Mr Greenspan did not refer to that essay. Nor, more strikingly, did he refer to another book published the previous year with exactly Mr Greenspan's own title.

But perhaps that is not surprising. The original The Map and the Territory was written in French (although an English translation is now available). The novel won the Prix Goncourt, France's most prestigious literary award, in 2010. The choice was controversial. Some described the work as pornographic, others said it was plagiarised. The book has many odd aspects; one is that the author, Michel Houllebecq (real surname: Thomas), not only features in the novel himself but is also brutally murdered. Mr Houllebecq has described the erosion of relationships, particularly sexual ones, by the free market as a central theme of his writing; the book is not a work one might to expect to find on the bedside table of a prominent American conservative.

But neither Mr Houllebecq nor I can – or did – lay claim to originality in our titles. The phrase "the map is not the territory" was coined in the 1920s by Alfred Korzybski, the Polish philosopher. The essence of Korzybski's thought is that we interpret the world through abstractions, abstractions that should not be confused with "the world as it really is". There are many different possible maps of the same territory, each useful for specific purposes – and the only completely realistic map, one that exactly reproduces the whole territory, is of no practical value at all (a theme developed in Jorge Luis Borges' essay, "On Exactitude in Science").

Korzybski's thought has profound implications for economics and related subjects. No economic model can describe "the world as it really is"; there are only provisional approximations that can be pragmatically applied in particular situations. Many economists struggle to accept this. They suffer physics envy, believing (I think wrongly) that physicists employ models that do describe "the world as it really is". If economics is to be a science, these economists think, those who practice the subject must identify truths that are similarly independent of time, place or context.

And Mr Greenspan appears, on the evidence of his book, to be among that group. He now professes a humility not, perhaps, evident in his pronouncements as chairman of the Fed. But he still pursues the quest for a model that might describe "the world as it really is". He acknowledges that "producing a fully detailed model is beyond the scope of this book", further conceding that "we may never approach the fantasy success of either the Oracle of Delphi or Nostradamus". But he assures us: "Most of our intuitive insights, when subject to the discipline of a syllogism, apparently do conform to reality." Despite everything, he clings to the notion that valid economic policy conclusions can be deduced from a priori axioms about the nature of the economic world.

At first sight the two authors of The Map and the Territory, Mr Greenspan and Mr Houllebecq, could hardly have less in common. Yet perhaps they share an underlying superficiality of thought concealed by a complexity of expression. Both the American central banker and the French novelist are applauded within their own culture and derided outside it. But the chairman of the Fed can do a great deal more damage than the winner of the Prix Goncourt.
Rejoice! You get to feel useful all of your days¡
• Work until you die: Lifelong labor becomes new normal (Yahoo)
For a growing number of Americans, there may never be such a thing as real retirement. "The market is filled with people who are petrified of the idea of retiring because they might not have the funding to afford retirement," Goalinvestor.com's Melissa Doran Rayer, whose company provides financial planning services and created a data chart to show how retirement trends are shifting, told Yahoo News in a recent interview.

From 1990 to 2010, the percentage of workers 65 and older staying in the job market rose for both women (from 28.2 to 43.8%) and men (52.5 to 65.3%). Interestingly, those trends have occurred in the 35-plus years since the Revenue Act of 1978 was passed, allowing workers to invest tax-deferred savings in 401(k) plans.

There have also been broad cutbacks to pensions across the U.S. A recent analysis found that more than 20 million American workers could have their retirement threatened from pension mismanagement. The percentage of companies offering pension plans has also declined, as have the average retirement contributions in corporate 401(k) plans. In February, AOL's CEO Tim Armstrong faced wide criticism for his plans to both alter and scale back company 401(k) contributions.

There's also the risk that people will plan poorly for their retirement, choosing either to retire too early or to spend too much when they need to be living on a more modest budget. For example, a new online test about Social Security, which found that about only 5% of respondents correctly answered a set of basic questions about when and how to best use their retirement funds. "There are two or three key mistakes — people planning for too early a retirement or too lavish a retirement," Tash Elwyn, president of Raymond James & Associates, told USA Today.

"It might mean that you're working part-time or that you're starting a new business," Doran Rayer said. And for some, starting a new business is obviously a positive choice. But she said it can also be the only option for some older workers struggling to find a place in a workforce that has largely left them behind.

"Going forward, it's not so much retirement but financial flexibility," she said. "It means the freedom to make decisions for themselves about the types of jobs they take on. Maybe not how much their W-2 reads at the end of the year, but things they want to be doing."
Money quote: 'What little awareness there is about the "Transatlantic Trade and Investment Partnership" (TTIP) could be distorted by anti-globalization protesters, EU ministers have warned. '. Here's hoping hormones can break the deal, but with little conviction.
• Europe's Fear Of U.S. Hormone Meat, GMO Food Sows Divide In Trade Talks (Reuters)
Europe's reluctance to buy hormone meat or genetically modified food from the United States has exposed an "enormous gulf" that threatens the world's biggest trade pact, industry and labour groups told EU and U.S. negotiators on Wednesday.

Eight months into talks to create a transatlantic pact encompassing almost half the world's economy, divisions remain over opening up to each others goods, rules governing the names of foods and genetically modified food. "There is an enormous gulf between the EU and U.S. positions," said Michael Dolan, a lobbyist for the U.S. Teamsters union, who rejected the idea that the European Union should be the only market to call Greek-style cheese 'feta'. He warned that a trade deal "is likely to be smaller, more modest than its ambitions, because of so many intractable issues," telling negotiators in a forum also open to reporters.

Tensions over food, which have bedeviled many trade talks around the world, risk eroding already fragile public support for a deal that proponents say would increase economic growth by around $100 billion a year on both sides of the Atlantic. Negotiators aim to finalize a deal by the end of this year.

Mindful of the huge protests surrounding global trade talks in the 1990s, EU and U.S. negotiators holding a fourth round of talks this week in Brussels took the unusual step of not only receiving lobbyists but also letting in the media. What little awareness there is about the "Transatlantic Trade and Investment Partnership" (TTIP) could be distorted by anti-globalization protesters, EU ministers have warned. At risk is a pact creating a market of 800 million people where business could be done freely, building on the almost $3 billion of transatlantic trade in goods and services each day.

Difficulties over agriculture bode poorly for the talks because EU-U.S. negotiators are seeking a far more a sophisticated agreement, going beyond farm goods to bring down barriers across all industries and businesses. Even animal welfare is sensitive in a proposed accord where both sides would recognize each others standards to oil the wheels of commerce. Europeans said they consider U.S. standards concerning the slaughter of animals as being far lower than in the EU.

Even without such issues, U.S. farmers complain that the farm trading relationship is unfairly skewed in Europe's favor and want it addressed in the trade talks. The European Union exported $16.6 billion of farm goods to the United States in 2012, much more than the $9.9 billion that U.S. farmers sent to Europe, partly because of EU rules banning imports of genetically modified food for human consumption. "Our trade could be way bigger," said Douglas Nelson, an adviser for farm group CropLife America. Floyd Gaibler of the U.S. Grains Council said: "The TTIP is a way to normalize trade with the European Union."
The folks who take the decisions are of the techno happy bent that says we much and will and can reinvent the entire planet. They never tire of pointing out how smart man is. As the whole shebang is falling apart. If anything, they love to see it all crumble and die: that way we'll have no choice but to make it all one big lab. There is no bigger threat to mankind and to the planet, but it all falls under optimism.
• David Cameron's Science Advisers Call For Expansion Of GMO Crops (Guardian)
David Cameron's official science advisers have called for GM crops to be rolled out across the UK by scrapping "dysfunctional" EU regulations that risk curtailing future food supplies. "We take it for granted that because our supermarket shelves are groaning with food, there are no problems with the food supply, but there are," said government's chief scientific adviser, Professor Sir Mark Walport, citing rising global population, limited farmland and climate change. "If we don't use GM the risk is people going unfed."

In a report published on Friday, the scientists say GM crops should face the same regulation as conventional crops and that the UK government should take back powers from Brussels to be able to unilaterally approve the growing of GM crops across the UK.

The plant science experts who wrote the report, backed by the Walport, argue that decades of use of GM crops around the world have revealed no adverse effects. They say the UK should forge ahead with GM crops to help secure future food supplies, ensure UK farms do not become uncompetitive and benefit the UK's knowledge economy. GM crops are now grown on 12% of all the world's arable land but are barely used in the EU following years of public concern.

Walport and the report's authors argue that EU regulation – which has approved just two GM crops compared to 96 in the US – must be changed to test each crop on its merits, not on whether it was bred conventionally or by GM techniques. "When the correct tests are done, GM products are as safe as their non-GM counterparts," said Walport. "The EU decision-making has been dysfunctional. It makes much more logical sense to regulate on a product-by-product basis: technologies are neither universally safe or universally unsafe."

"The process takes years and costs millions of euros for each crop. Not surprisingly, there are very few applicants," said the report's lead author, Professor Sir David Baulcombe, at the University of Cambridge. The report notes that the EU imports 70% of its animal feed, most of it GM, and, in an article for the Guardian, Baulcombe notes: "Bizarrely, our animals eat GM quite safely although we do not have the option." The report backs the conclusion of the European Academies Science Advisory Council that "there is no rational basis for the current stringent regulatory process".

The first GM plants were grown more than 30 years ago and the first commercial GM crop – the Flavr Savr tomato – was grown 20 years ago in the US. Now the area cultivated for GM crops is doubling every five years and already 80% of soybean and cotton has been genetically modified to withstand pesticides or repel pests. GM crops in development could withstand pests or diseases such as potato blight, which costs $5bn a year, cope with heat or drought, or have better nutritional or storage properties. One GM crop would even produce the healthy Omega-3 oils usually derived from fish.

But the report, commissioned by the prime minister's Council for Science and Technology and endorsed by Walport, recognises that significant public opposition remains. Walport said: "It would be silly not to admit that there are some sections of the public who are unconvinced by the benefits or have doubts about the motives behind it. We have to be clear that GM is not all about profits for multinational companies." But he added: "There are obvious competitive benefits for the UK. We want the science done by the academic sector to yield the maximum benefits and one way is through the market place."

Claire Robinson, editor at campaign group GMWatch, said the report's authors were not independent of the industry with, for example, lead author Baulcombe receiving research funding and working as a consultant for the multinational Syngenta. "Their views should be treated with the same scepticism we would apply to any sales pitch," she said.
Sometimes you get to think the industry has already won this one.
• Incidents Of Low-Level GMO Crops In Traded Food And Feed Rising (AgriPulse)
The increased production of genetically modified crops around the world has led to a higher number of incidents of low levels of GMOs being detected in traded food and feed, according to the Food and Agriculture Organization of the United Nations (FAO). The incidents have led to trade disruptions between countries with shipments of crops being blocked by importing countries and destroyed or returned to the nation of origin. In the first survey of its kind, 75 out of 193 FAO member countries responded to questions on low levels of GM crops in international food and animal feed trade.

Some findings:

-Respondents reported 198 incidents of low levels of GM crops mixed into non-GM crops between 2002 and 2012;
-There was a jump in cases between 2009 and 2012, when 138 out of the 198 incidents were reported;
-26 countries blocked imports after finding traces of GMOs;
-Shipments with low levels of GM crops originated mainly from the US, Canada and China, although other countries also accidently shipped such crops;
-Once detected, most shipments were destroyed or returned to the exporting country;
-The highest number of incidents involved linseed, rice, maize and papaya.

"The numbers of incidents are small relative to the millions of tonnes of food and feed traded every day," said Renata Clarke, FAO senior food safety officer in charge of the survey. Still, FAO decided to conduct the survey because the resulting trade disruptions may be costly, she said. The trace amounts of GM crops become mixed with non-GM food and feed crops by accident during field production, as sometimes happens when a field trial of a GM crop is grown near a non-GM crop, or in processing, packing, storage or transportation.

Since there is no international agreement defining or quantifying "low level," the interpretation varies from country to country. In many countries it is interpreted as any level at which detection is possible, while in other countries case-by-case decisions are taken on what level is acceptable.

The GM crop in question may be authorized for commercial use or sale in one or more countries but not yet authorized in an importing country. Therefore, if the importing country detects the unauthorized crop, it may be legally obliged to reject the shipment. "We were surprised to see incidents from every region," Clarke said. "It seems the more testing and more monitoring they do, the more incidents they find."

Clarke said that while testing technology has become more sensitive, 37 out of 75 countries responded that they have little or no capacity to detect GMOs. "That is, they don't have the laboratories, technicians, and equipment to do so," she added. "Many countries have asked FAO to help improve their capacity to detect GMOs."
Canada's right wing Anglo-Saxon model continues to do the all the harm it can. It will take so long for people to find out just how harmful, that the "leadership" get away with it.
• Environment Canada braces for cuts to climate programs (The Star)
Canada's efforts to combat climate change could be scaled down as Environment Canada braces for more budgetary belt-tightening over the next three years. A recently released report on Environment Canada's plans and priorities reveals the department plans to reduce spending from $1.01 billion in 2014-2015 to $698.8 million in 2016-2017.

While the report noted current fiscal year's spending is somewhat inflated due to a one-time payout, the department is still projected to spend about $162 million less in 2016 than it plans to in 2015. Spending on the department's climate change and clear air program is projected to decrease from $234.2 million this year to $54.8 million in 2016-17. "Outcomes of such decisions would be reflected in the department's future budget exercises and estimates documents," the report noted.

The Star requested an interview with Environment Minister Leona Aglukkaq's office to discuss the report. In response, Environment Canada reiterated that the planned spending decrease is largely due to temporary programs that could be extended, altered, or enhanced — depending on the government's direction. Nevertheless, the department's report anticipates lean times to come. The report projects Environment Canada's full-time equivalent positions — the common measurement for federal departments' workforces — to decrease to 5,348 in 2016-17 from 6,400 this year.

Staffing levels at the climate change division are expected to see a sharper drop to 338 FTEs in 2016-17 from 699. The projections are based on Environment Canada's estimates for how much it will pay out in salaries, divided by the average salary at the department. "Knowing what the situation is with greenhouse gas emissions worldwide, one would think they got the numbers backwards. And that we would be ramping up rather than ramping down," said Halifax MP Megan Leslie, the opposition New Democrats' environment critic, on Tuesday. "That is a shocking decrease, it really is."
I fully agree with the topic. We're notoriusly inept at doing things for future generations anyway.
• Why Protecting the Environment 'For Future Generations' Is a Bad Idea (HuffPo)
The environmental movement, of which I am part, has long relied on the crutch of protecting the environment "for future generations." While it is a valid and important reason to invest time, money and energy into natural resource management, there is a much more compelling and urgent motive for protecting the environment, and all of the majestic species and vital ecosystems that are contained therein: current generations. The future, for billions of people, is a luxury.

Today matters, tomorrow matters and the path from today to tomorrow is uncertain for so many people, especially for the 60 percent of the world's poor that rely on natural resources for survival, most of whom are women and children. As their environment collapses, their day to day existence becomes less certain.

As the environment becomes degraded due to things like deforestation, destructive fishing practices and pollution, impacts on people's lives and livelihoods mount. For example, forests protect soils. When trees are cut down the top layer of earth, that is vital for growing food, is washed away by rain or blown away by the wind. Yes, this undermines important habitat for beloved and necessary species such as impressive gorillas and spectacular birds, but it also translates into food shortages that cause malnutrition in children and jeopardize maternal health.

When children are hungry and mothers are dying, people turn to acts of desperation including the slashing and burning of more forests. This cycle is in no way sustainable, but it puts food on the table today. Similarly, water is increasingly hard to find and when it is found it is often contaminated. Rivers carry pesticides, silt and sand and human waste downstream and when the river meets the sea, dead zones erupt wherein no plants or animals survive. But contaminated water is also killing children and is, in fact, the second most common cause of death in children under the age of five.

The collapse of food and water supplies is driven not only by local actions but also by changing climactic conditions. And let's be clear, the term "changing climactic conditions" is not a futuristic sci-fi fantasy buzzword. It is a here and now reality for billions of people. Right now I am sitting in the middle of Kenya's rainy season and, simply put, there is no rain. When the dry season comes, there is often flooding. Seeds do not grow where they have always grown and farming practices that have always worked do not work anymore. Food and water shortages grow longer, less predictable and more calamitous.
Phytoplankton and zooplankton capture CO2 and make it move to the ocean bottom through their feces. Less CO2 in the atmosphere? No, because eventually it gets pumped back up again. And of course, CO2's acidification effects that break down skeletons should be taken into account as well. What the biological pump does is make sure CO2 is spread through the entire ocean, does the damage it does, and then gets back into the atmosphere.
• Ocean Life Captures CO2 And Detains It In Biological Material (IB Times)
A team of researchers from the University of California Santa Barbara has conducted a new study, which uses observations from space to help analyze how ocean life plays a role in the global carbon cycle. The researchers studied the life cycle of phytoplankton and zooplankton, tiny microscopic organisms usually found at the bottom of the ocean food chain, and incorporated their life cycle into a new model for assessing carbon emissions from the world's oceans. The researchers' food web-based model used satellite data to observe how phytoplankton produce organic matter using carbon dioxide in the water.

"What we've done here is create the first step toward monitoring the strength and efficiency of the biological pump using satellite observations," David Siegel, director of the Earth Research Institute at UC Santa Barbara, said in a statement. "The approach is unique in that previous ways have been empirical without considering the dynamics of the ocean food web."

As part of the study, published in the journal Global Biogeochemical Cycles, the researchers focused on the ocean's biological pump, which exports organic carbon from the euphotic zone — the depth of the water in the ocean that is exposed to sufficient sunlight for photosynthesis to occur.

According to the researchers, the biological pump exports carbon through sinking minute particles largely from zooplankton feces and aggregates of algae. And, once these particles leave the euphotic zone, sinking into the ocean depths, the carbon can be confiscated for as little time as a season or as long as centuries. Carbon is present in the atmosphere and is stored in soil, oceans and the Earth's crust. Any movement of carbon between — or in the case of the ocean, within — these reservoirs is called a flux.

"Quantifying this carbon flux is critical for predicting the atmosphere's response to changing climates," Siegel said. "By analyzing the scattering signals that we got from satellite measurements of the ocean's color, we were able to develop techniques to calculate how much of the biomass occurs in very large or very small particles."

Based on the study's results, the researchers predicted a mean global carbon export flux of 6 petagrams, or Pg, each year. [ Ed: The current global carbon export flux caused by sinking particles in oceans stands at 6 petagrams per year. A petagram is a quadrillion grams, or about 1.1 billion US tons. Annual global carbon emissions from fossil fuels stands at about 9 petagrams. ] According to scientists, this is a huge amount, and it is roughly equivalent to the annual global emissions of fossil fuel. Currently, fossil fuel combustion represents a flux to the atmosphere of approximately 9 Pg every year. "We need to understand where carbon goes, how much of it goes into the organic matter, how that affects the air-sea exchanges of CO2 and what happens to fossil fuel we have emitted from our tailpipes," Siegel said.
This article addresses just one of the many issues discussed in Nicole Foss' new video presentation, Facing the Future, co-presented with Laurence Boomert and available from the Automatic Earth Store. Get your copy now, be much better prepared for 2014, and support The Automatic Earth in the process!